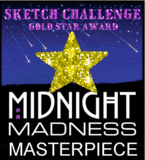 I won! I won the Midnight Madness Masterpiece Award for this week. Isn't that something?
I am so honored! I have only played along with this challenge for two weeks now. That you to the team at Midnight Madness for choosing me!!
Wow! You just can't imagine my surprise when I saw that this morning (at 4:40 AM!)
Well, a new challenge has been posted and I have some ideas floating around in my head. My friend, Jen, is coming over tonight to stamp with me so I will start to work on it then.
If you want to see Midnight Madness or play along in any of their challenges, please click on the icons to the right.